Group Classes
Group Class
Ages 5 - 99

Join The Band
Band Class

General Band Class Registation - Days and Instructors vary
This is an invitation only band class, placement of the student is based on skill and experience level. The monthly $289 fee plus a $39 registration fee will be charged to your card after this registration is submitted and confirmed by the school.
Fridays 2:00pm - 6:00pm
Month to month
$0.00/month Register
Private Lessons
Piano (ages 4+), Voice (ages 4+), Voice/Piano Combo (ages 4+)
Carlos

"It's an amazing moment when students start believing in their hard work and talent." -
Carlos's goal in teaching is to ensure that his voice and piano students feel confident. Whether it's singing in a room full of strangers or rocking on the keyboard, Carlos emphasizes that music is universal, and it should be an experience for performers and audience members. To achieve a good experience, Carlos focuses on proper technique, foundational knowledge, and goal-setting.
As a performer, Carlos has experience in pop, musical theatre, and classical opera. He has participated in shows such as "The Drowsy Chaperone" in Houston and "Dido and Aeneas" in Japan. He strives to instill confidence, expression, and knowledge in all his students whether it is for voice, piano, or composition.
Originally born in Puerto Rico, Carlos's youth was split between Chicago and Houston, the latter of which he calls home. With his knowledge of music composition, Carlos has composed for films and video games around the world including in the U.S, England, Italy, and Canada.
Month to month
Wednesday at Join The Band
Starting Oct 1st, 2022
Saturday at Join The Band
Guitar (ages 2+), Bass (ages 2+)
Michael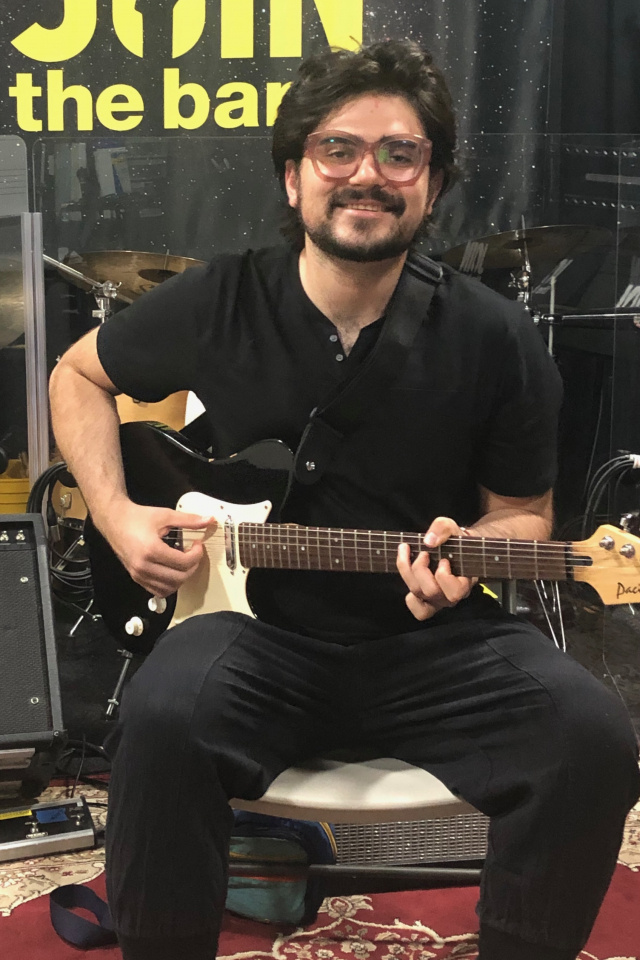 Michael is a guitarist and gifted singer/songwriter who believes that the power of expression through music is something everyone should experience. He makes learning music fun by focusing on the goals and needs of each individual student.
Michael attended the California Institute of the Arts (CalArts) and graduated from Idywild Arts Academy.
As a songwriter, Michael has developed a deep appreciation and passion for individuality and creativity in music.
No genre or style of music is off the table for Michael. His playing is strongly influenced by Rock'n'Roll, R&B, and jazz, but he is also comfortable with country and folk styles, and even classical Indian styles.
Month to month
Monday at Join The Band
Month to month
Saturday at Join The Band
Drums (ages 2+)
Dan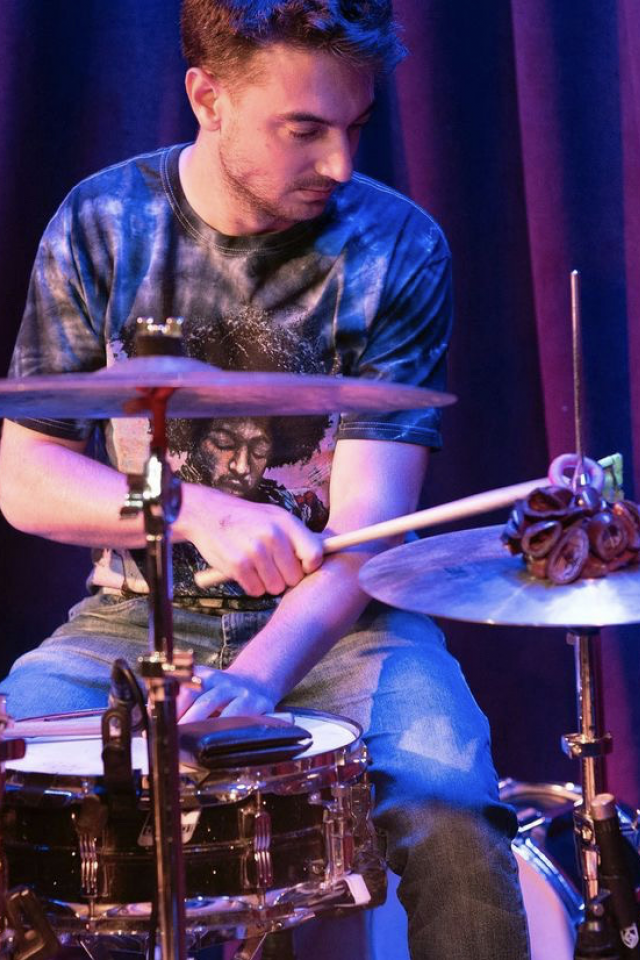 "Rhythm is an innately human phenomenon, and our mission as drummers is simple: to make people dance and spread joy." - Dan
A native of Connecticut, Dan has been playing drums and percussion for 15 years.
After first taking an interest in rock drumming in his early teens, Dan developed his jazz and world percussion backgrounds throughout his schooling at Georgetown University, and has taught private lessons for both drum set and hand drums for the last five years.
Embracing all styles of drumming, Dan has performed up and down the Eastern seaboard with groups ranging in genre from jazz to neo-soul, R&B, country and folk, Afro-Latin, classic rock, and hip-hop. His goal is to help students young and old on their own journey of self-expression and enhance their relationship with music through patience and perseverance.

Month to month
Tuesday at Join The Band
Drums (ages 5+)
Zak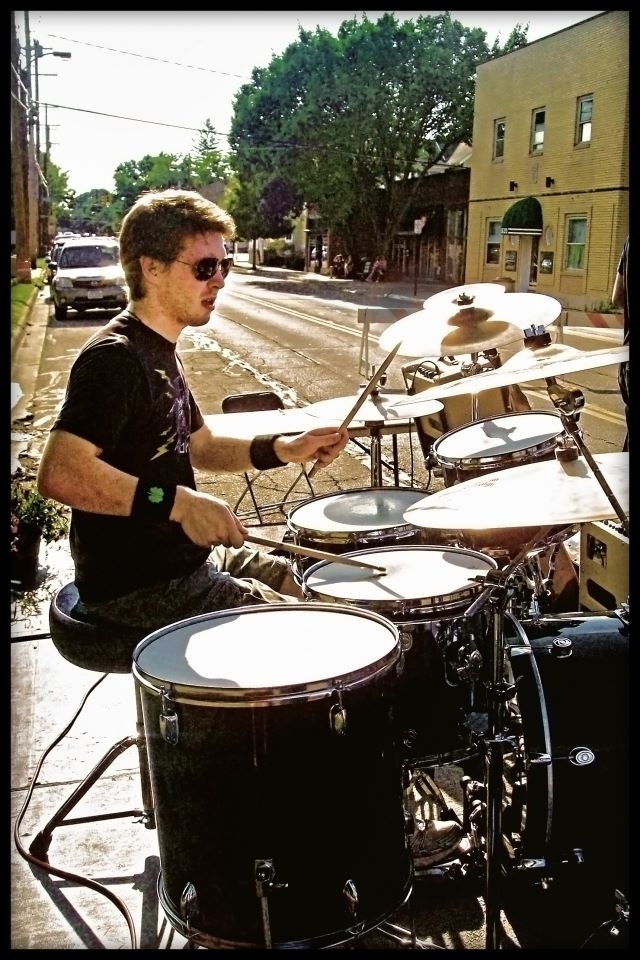 Zak is a graduate of Bowling Green State University with a degree in Jazz Performance.
With his students, he inspires passion and excitement by teaching them how to play their favorite songs while also focusing on important fundamentals like grip, approach, rudiments, and musicality.
Teaching is enjoyable for him because he loves seeing students overcome challenges and the excitement they get from becoming a drummer!
Parent Google Review: J Marcus 5 ⭐️⭐️⭐️⭐️⭐️
"Zak is an absolutely amazing drum teacher. He is patient, inspiring, and my son just adores him. He is a class act, and while we live around the corner from the school, I would travel miles for my son to have classes with Zak! We are so fortunate and lucky to have found him."
Month to month
Monday at Join The Band
Month to month
Thursday at Join The Band
Month to month
Friday at Join The Band
Piano (ages 5+), Voice (ages 5+), Guitar (ages 5+), Ukulele (ages 5+), Bass (ages 7+), Voice/Piano Combo (ages 2+), Voice/Guitar Combo (ages 2+)
Taylor W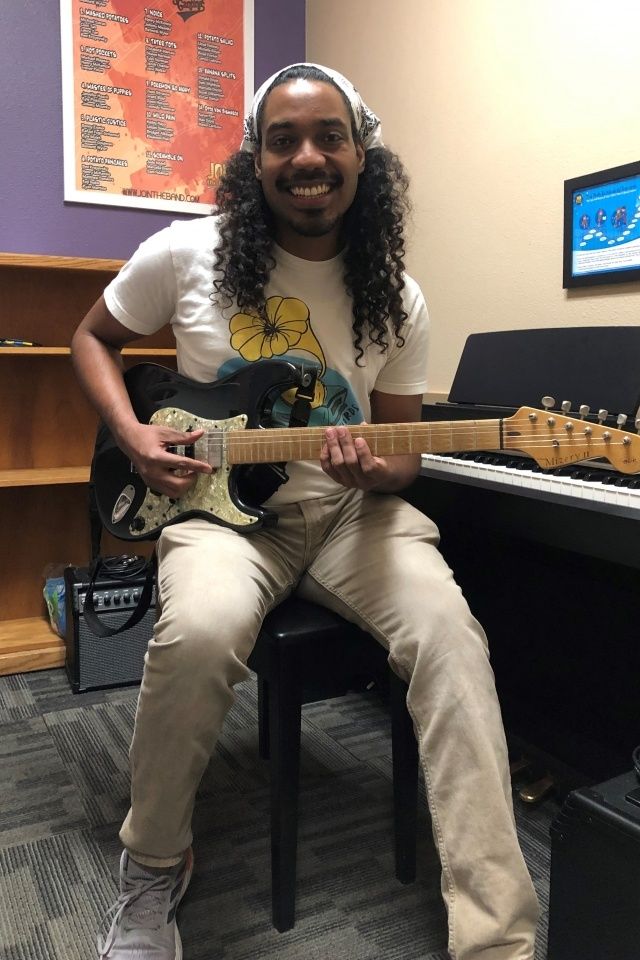 Please Note: Voice lessons currently online; piano and guitar lessons offered both in-studio and online.
Taylor is a diverse instructor, exploring the language of music as a producer, composer and educator. Being a proud graduate from the USC Thornton School of Music, Taylor has studied multiple instruments, arrangement and composition, and has had over 4 years of experience as an educator.
His eclectic insight has resulted in various approaches unique to his students and their creative ideas. Drawing from all of these experiences Taylor brings a unique approach to teaching to share his love for music.

Parent Google Reviews:
S Troyan 5 ⭐️⭐️⭐️⭐️⭐️
Taylor has really helped our son find his voice. He loves his one on one sessions with him. It really helps him fine tune the songs he performs with his band."
R Leflore 5 ⭐️⭐️⭐️⭐️⭐️
" Taylor is so patient and inspirational with my daughter, he is such an amazing teacher! My daughter looks forward to her lesson every week and is advancing all the time! Thank you Taylor and Join the Band for all the music!
Month to month
Monday at Join The Band
Month to month
Tuesday at Join The Band
Month to month
Wednesday at Join The Band
Month to month
Thursday at Join The Band
Piano (ages 4+), Voice (ages 2+), Ukulele (ages 2+), Voice/Piano Combo (ages 2+)
Bianca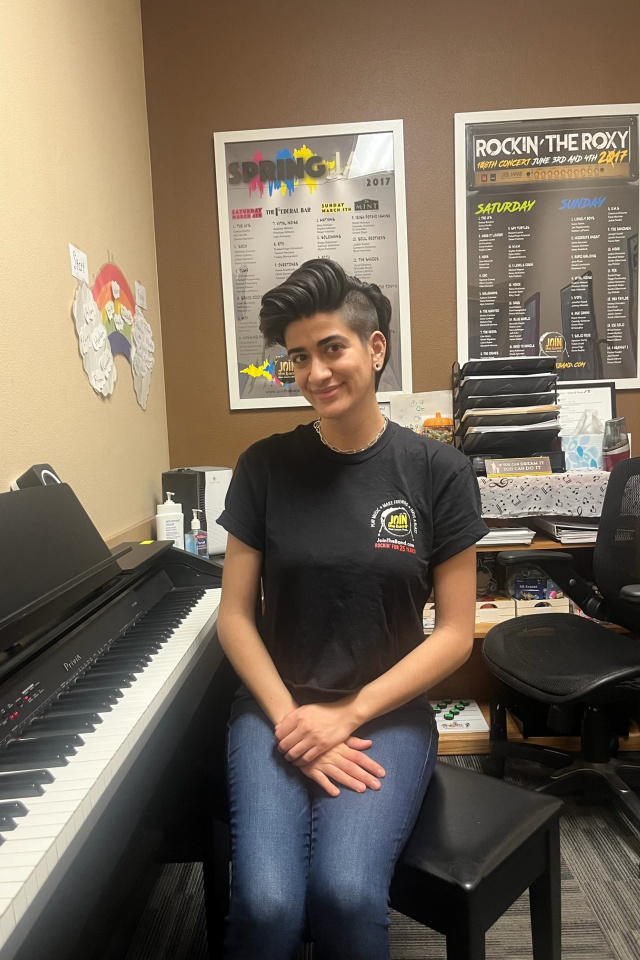 Voice, Piano, and Ukulele
Please note: Voice lessons currently online; piano lessons offered in-studio or online.
Bianca's passion for teaching and music started at a young age when she began training at 12yrs old. Bianca believes that music is good for both the mind and the soul, and that everyone at any age should have fun with it. Seeing her students blossom at their craft is what Bianca lives for.
Bianca is a recent graduate of the Musician's Institute where she received a Bachelor's in Vocal Performance in Contemporary Styles. Prior to MI Bianca trained for six years at the El Paso Conservatory of Music in classical music and was a proud teen member of a professional, touring, all-girls choir.
Voice: Bianca has over ten years of training in classical, musical theater, and all contemporary styles. Vocal technique is one of her favorite things to teach. Bianca strives for her students to become versatile, well-educated musicians.
Piano: Bianca has been playing piano and singing since was a toddler. Bianca considers herself a music theory buff and likes to weave it into all of her lessons.
Ukulele: Bianca has been playing the ukulele since high school, and accompanies herself on the ukulele for her solo vocal performances.

Student Google Review: A Suero. 5 ⭐️⭐️⭐️⭐️⭐️⭐️
Thank you Join The Band for giving me the space and opportunity to grow as a musician. Being here has taught me so much; I look forward to my lessons every week
A special shout out to Bianca for being such a patient, encouraging and holistic vocal teacher. She is very passionate about singing and proper technique, I can't wait to get started working on our songs together!
Month to month
Monday at Join The Band
Month to month
Tuesday at Join The Band
Month to month
Wednesday at Join The Band
Month to month
Thursday at Join The Band
Guitar (ages 5+)
David S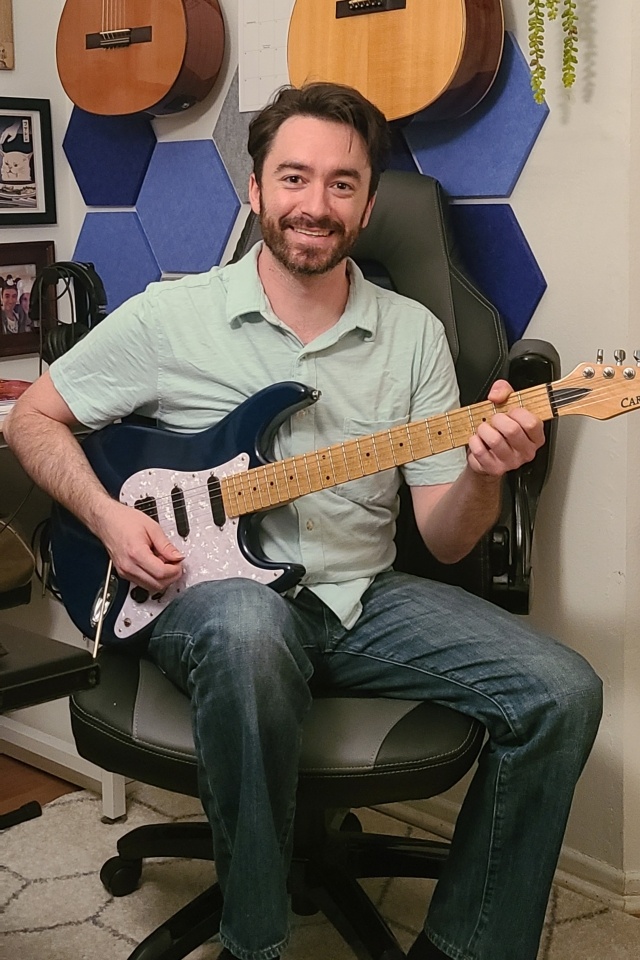 David Shorr is an enthusiastic guitar teacher with over 10 years of experience. David received his Bachelor of Music from the Jazz Studies program at Cal State University Northridge where he studied guitar with Larry Koonse (Seth McFarlane, Karrin Allyson, Tierney Sutton, Billy Childs, etc).

David's teaching style can be described as structured, rewarding, and most of all, fun! In addition to teaching students how to play their favorite songs, David also makes use of various method books to give all his students a strong foundation in reading music notation and guitar fundamentals.

Whether your interest is electric rock guitar shredding, folk acoustic strumming, jazz and improvisation, or even classical guitar technique, and everything in between, David can help you achieve. David's absolute favorite thing about teaching is seeing the pride in a student's face when they nail something they've been working really hard on!

As a professional musician, David's experience has taken him from stage to screen performing with acts such as Postmodern Jukebox, on TV shows like The Comedians (Billy Crystal and Josh Gadd – live to tape performance), Jane the Virgin (on camera performance), Deadwood (2019 movie – on camera performance). David has also recorded guitar on various short films and games with industry greats like video game composer Austin Wintory.
Parent Google Review: P Duca 5 ⭐️⭐️⭐️⭐️⭐️
"We LOVE Join The Band!!
Our son has done the band program, which is amazing and also takes guitar lessons from David S. David is the VERY best! David's love of teaching shines bright and it's clear that he has a genuine interest in our sons development which we appreciate very much. His support, encouragement and enthusiasm means to world to our family. My son loves his lessons with David because he's "fun and teaches me lots of new things."

We feel very lucky to be part of the Join The Band family - We love the entire staff, they are always so helpful, caring and encouraging!
Thank you David and JTB!"
Month to month
Wednesday at Join The Band
Drums (ages 5+)
Jake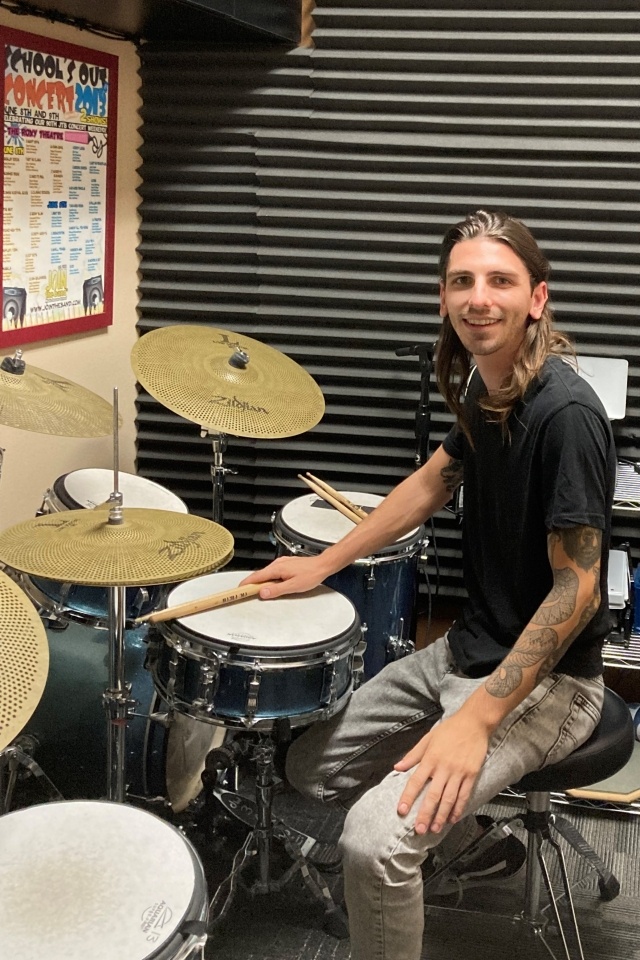 Jake graduated from Berklee College of Music in 2015. Since that time Jake has had taught a wide variety of drum set styles to students of all ages. Rock, pop, blues, jazz, funk, and more!
Teaching the role of a drummer plays inside of a band is his primary goal as a teacher. Learning how the student learns and what makes them excited to play the instrument is crucial to their development.
As well as teaching, Jake has toured and recorded internationally with multiple artists and loves to bring that real gigging experience and information into the classroom
Parent Google Review: A Lee 5 ⭐️⭐️⭐️⭐️⭐️
"Our 5yo has Jake as a drum teacher and Natalie as his piano teacher at JTB and they're both the absolute best!
Jake is so patient, and fun, and embrace's our little guy's quirkiness. He's so thoughtful and engaged no matter the energy our son shows up with to his lesson. Our son loves showing his friends all he's learning on the drums and continues to love to learn the drums largely because Jake is such a great teacher."
Month to month
Tuesday at Join The Band
Month to month
Wednesday at Join The Band
Guitar (ages 5+)
Pete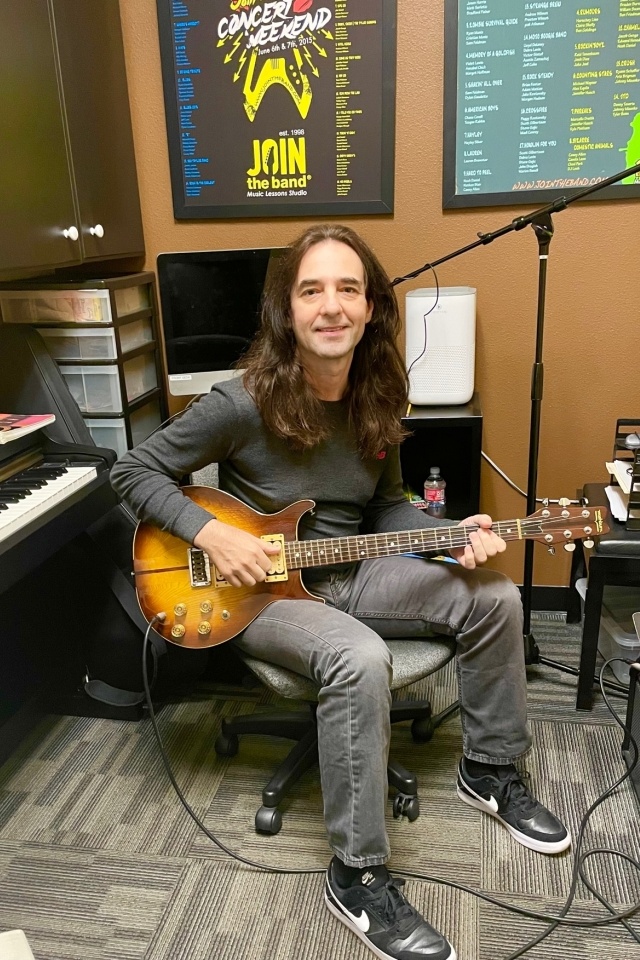 Pete acquired his Bachelor of Science Music Major at Mercy College and The Westchester Conservatory of Music
With over 20 years of teaching, and real-world professional guitar playing experience, Pete can tailor a lesson
plan just for you.
Pete excels with beginners to bring them up to their first performance, helping a teenager play
in their first band, preparing a student for music college, or simply playing at a level that they're
happy with.
Pete is committed to helping guitar students learn and enjoy the process of learning, and finds it extremely gratifying to guide them through the process and help them reach their goals.
Parent Google Review: R Leflore 5 ⭐️⭐️⭐️⭐️⭐️"...My daughter looks forward to her lesson every week and is advancing all the time! Pete is amazing, my 14 year old loves her guitar lessons. Thank you Pete and Join the Band for all the music!
Month to month
Monday at Join The Band
Month to month
Saturday at Join The Band
Drums (ages 2+)
Terrance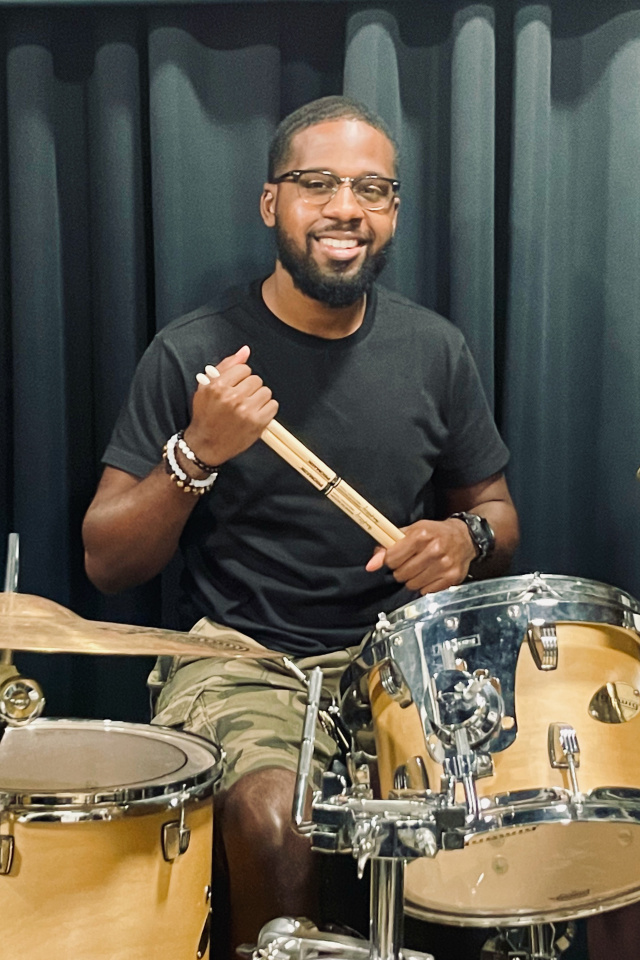 "Teaching drums is a beautiful journey because it helps others reach their potential and exceed their expectations." - Terrance
As a teacher Terrance understands the importance of patience, diligence, compassion, and relatability. He also teaches the importance of proper technique, drumming fundamentals, playing by ear, and the anticipated goals of each student.
Being well versed in a variety of styles including gospel, funk, R&B, classic rock, jazz, and hip hop also expands his value a drum teacher here at Join The Band.
Terrance is a proud Los Angeles native who began playing drums at three years old, gaining early experience playing in church. His music journey would broaden at Cerritos College, studying Commercial Music, then transferring to California Baptist University to study Music for Worship and Ministry, attaining both Bachelor's and Master's degrees.
No timeslots available at the moment.
Guitar (ages 5+), Bass (ages 7+)
Trent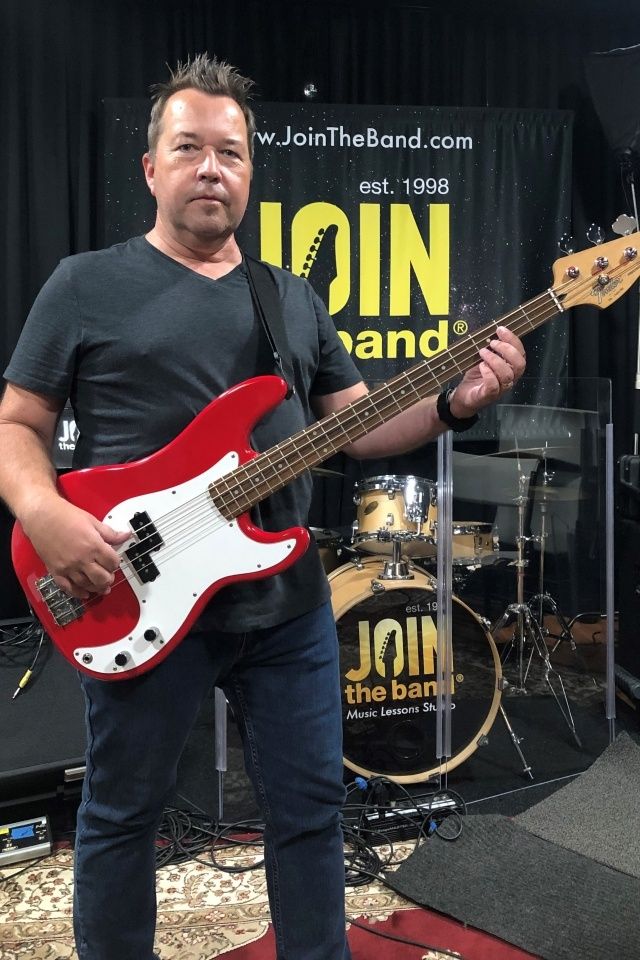 Trent studied at Los Angeles Valley College, and the Dick Grove School Of Music. He was a member of the Studio 'A' Jazz band at Valley College and studied with Joel DiBartolo and Tim Emmons at the Dick Grove School.
Well-versed in many styles of music, (rock, blues, jazz, funk and more) Trent brings a wealth of experience to his students' lessons.
Trent has a very focused approach to teaching that begins with fundamentals. He believes that building on core music skills is the fastest way to success.
Trent's recording/performance credits include: Eddie Money America, Nancy Sinatra, Air Supply, Robert Palmer, Patrick Simmons (THE DOOBIE BROTHERS),Wayne Kramer(MC5),Jon Parr, Clem Burke(BLONDIE), Pete Thomas (ELVIS COSTELLO), Randy Jacobs & Sweet Pea Atkinson( THE BONESHAKERS),and many others.
Producers: Charlie Midnight (JOE COCKER,JAMES BROWN), Jamie Houston(MACY GRAY,MICHAEL BOLTON), Monty Byrom (EDDIE MONEY,BIG HOUSE), Curt Cuomo (KISS

Parent Google Review: M Kaatz 5 ⭐️⭐️⭐️⭐️⭐️
"Our daughter, Erin, recently started working with Trent. She is very excited to be working with him on her own music as she begins gigging, prepping for tour, and continuing with her bass playing. Thank you, Trent!"
Month to month
Thursday at Join The Band
Piano (ages 3+), Voice (ages 5+), Voice/Piano Combo (ages 2+)
Natalie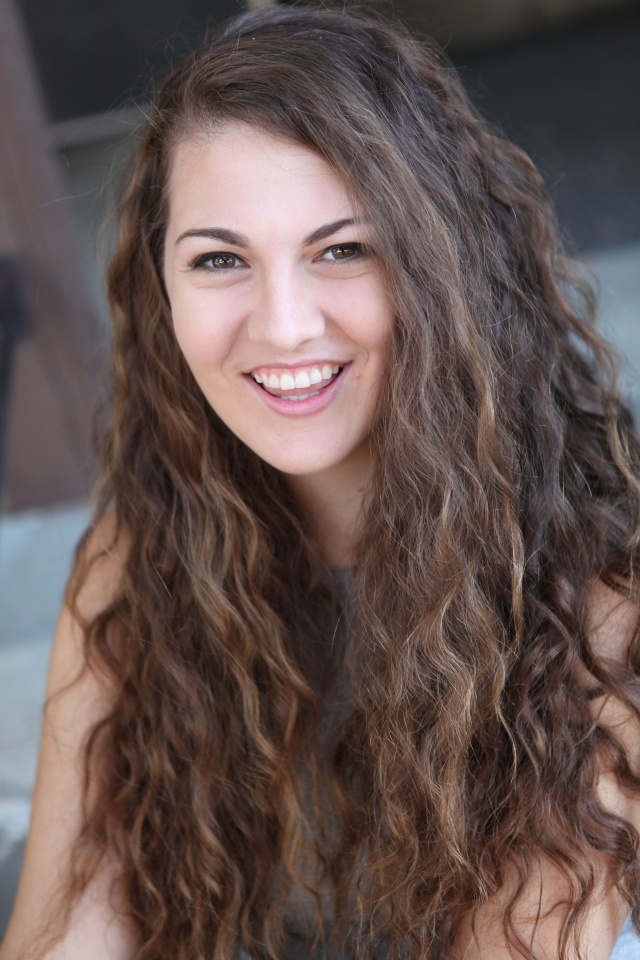 Please Note: Voice lessons currently online; piano lessons offered both in-studio or online.
Natalie is so excited to be teaching piano and voice at Join The Band! She has taught musical theatre for eight years, and individualized piano and voice lessons for six. She's studied vocal techniques under well-equipped Broadway singers, accompanied musicals, composed musicals, and even accompanied musical theatre improv.
Natalie is well-versed in rock and improvisational piano, Broadway piano, and classical piano. She has worked with hundreds of individual students over the years, and focuses to provide a safe and supportive space for each student to create and practice. She is committed to help you reach your full potential as a musician and to find the uniqueness in each person's individual musicianship
Parent Google Review: G McCarthy 5 ⭐️⭐️⭐️⭐️⭐️
"We have been going to Natalie for piano lessons for about 6 months and she is wonderful with our 6-year-old Jack. Jack is enthusiastic about his lessons. Natalie is patient and encouraging…everything you want when learning an instrument!"
Month to month
Tuesday at Join The Band
Month to month
Thursday at Join The Band
Month to month
Friday at Join The Band
Drums (ages 5+)
Taylor M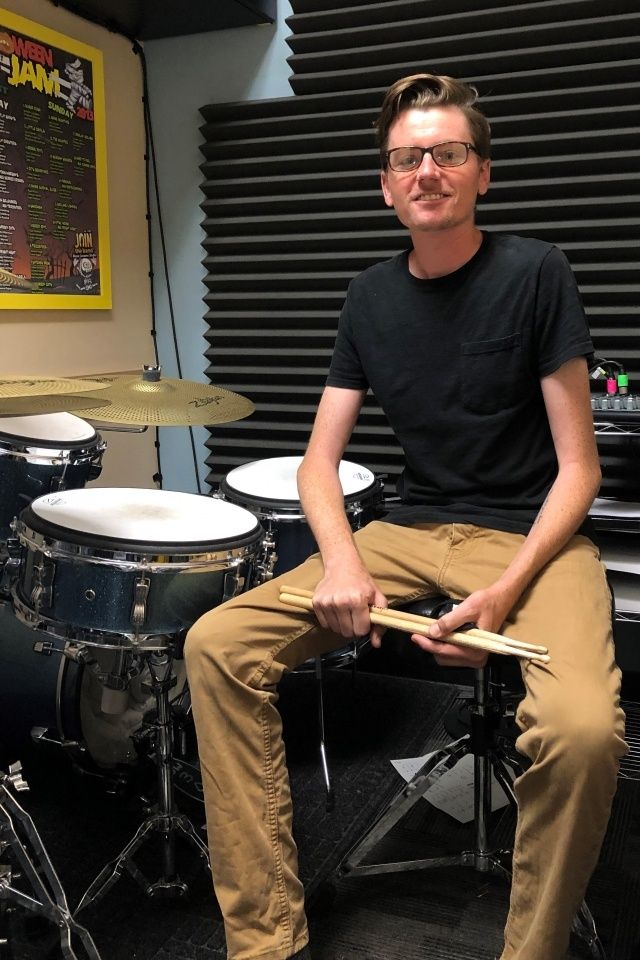 Taylor is a drummer, composer and producer from Los Angeles and holds a Bachelors Degree in Contemporary Writing and Production from Berklee College of Music. He began playing drums at the age of 7 and was exposed to a wide variety of music from Jimi Hendrix to Miles Davis.
He has been teaching drum lessons for over ten years and has been with Join The Band for over eight years now.
Taylor has taught students ranging in age from five to seventy years old. His goal is to personalize lesson plans based on the student's musical interest, while still covering the fundamentals of drumming.

Parent Google Review: K Clayton 5⭐️⭐️⭐️⭐️⭐️
"Our son enjoys studying with Taylor a lot. He started with Taylor when he was 9. We took a break and when he we picked up again our son said he only wanted to continue studying if he could work with Taylor. We love that Taylor focuses on basic techniques while giving our son the option to learn tunes he is interested in learning. He communicates well and is good about following up with assignments."
Month to month
Monday at Join The Band
Piano (ages 5+), Voice (ages 5+)
Annmarie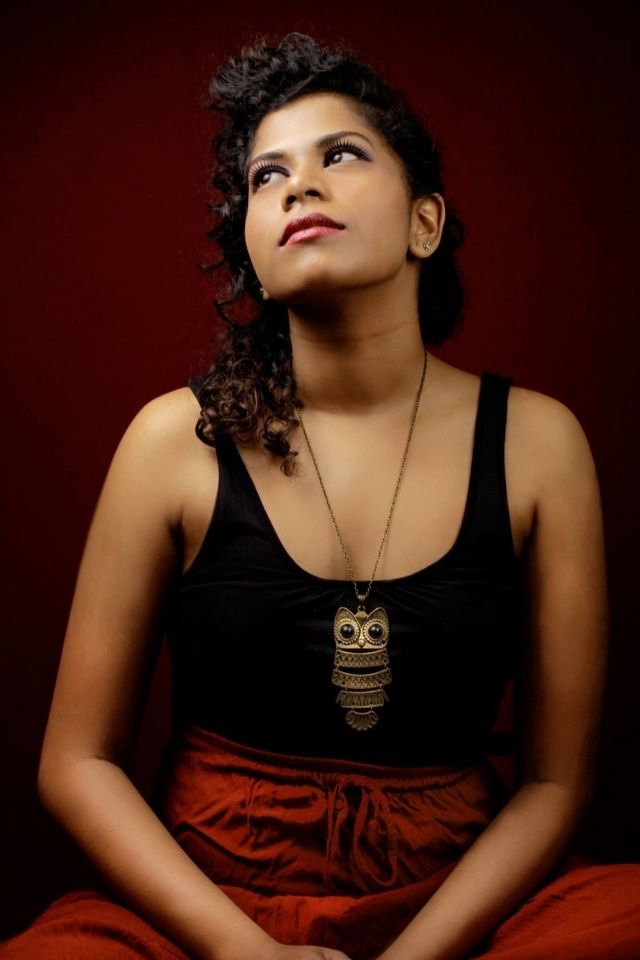 Please Note: All voice lessons are online
Annmarie is a graduate of Berklee College of Music and has been teaching since 2011.
AnnMarie provides vocal training for students of all ages and all levels (beginner - advanced). She specializes in contemporary singing and ensures all her voice students understand the fundamentals of vocal technique and wellness and that they have a solid knowledge of music theory. For her musical theater students, Annmarie helps them work on their performance quality and stage presence.

For piano, Annmarie provides lessons for all ages from beginner to early intermediate levels. She stays flexible and caters to what each student wants to learn, whether it's contemporary or classical piano styles. She teaches out of the Faber, Suzuki, and Alfred method books, but can also focus on pop chord accompaniments and contemporary music theory. Annmarie works hard to help her students stay confident and continuously nurtures them to successfully accomplish their music goals.

Month to month
Wednesday Online Only Lessons
Drums (ages 5+)
Dave A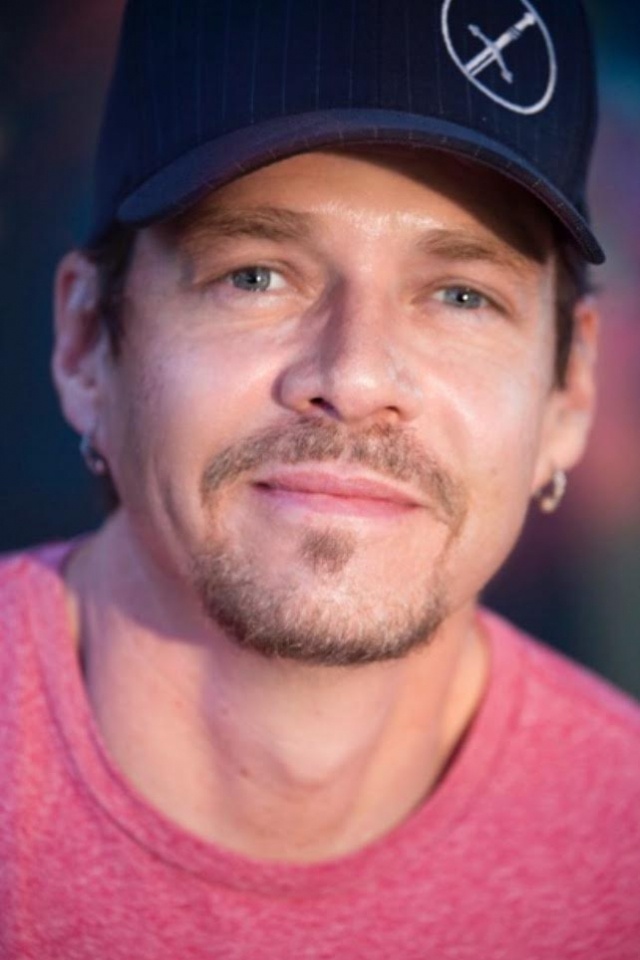 Dave Allen graduated from the Western Australian Conservatorium of Music with a Degree in Music and Performing Arts. After moving to Los Angeles from Australia, Dave completed the Post Graduate Encore Program at the Musician's Institute in Hollywood, CA.
Dave has been teaching professionally for over 30 years and loves teaching the drums as much as he loves to play the drums.
Dave specializes in teaching all styles of drumming, and loves to teach students of all ages, from the "wee little ones" to our seniors. All levels too, the beginners, the kids auditioning for Jazz programs for school and college, and the students who just want to take their drumming to the next level. Whatever age or level, Dave and his students just have fun playing music! Helping students to create this drumming happy place is what inspires him to teach the most.
Dave has recorded drums on movie and TV soundtracks including: 'American Pie', 'Crash', 'Power Rangers' and 'Me, Myself and Irene', 'Buffy The Vampire Slayer', 'Smallville', and the Curious George Cartoons on PBS and HULU.
In addition, Dave has recorded music for all 6 Disneyland Theme Parks around the world. Dave has also played drums with numerous singers including, Leonard Cohen, Michelle Branch, Avril Lavigne, Brett Michaels and Paul Reiser.

Parent Google Review: V Manthena 5 ⭐️⭐️⭐️⭐️⭐️
"We couldn't have asked for a better drum teacher! Dave is such a kind and caring teacher who makes learning how to play the drums a truly fun and exciting experience. Furthermore, he is so skilled at working with kids of all needs, in an inclusive and welcoming way! We highly recommend him to anyone!
Month to month
Wednesday at Join The Band
Guitar (ages 5+), Ukulele (ages 5+)
David F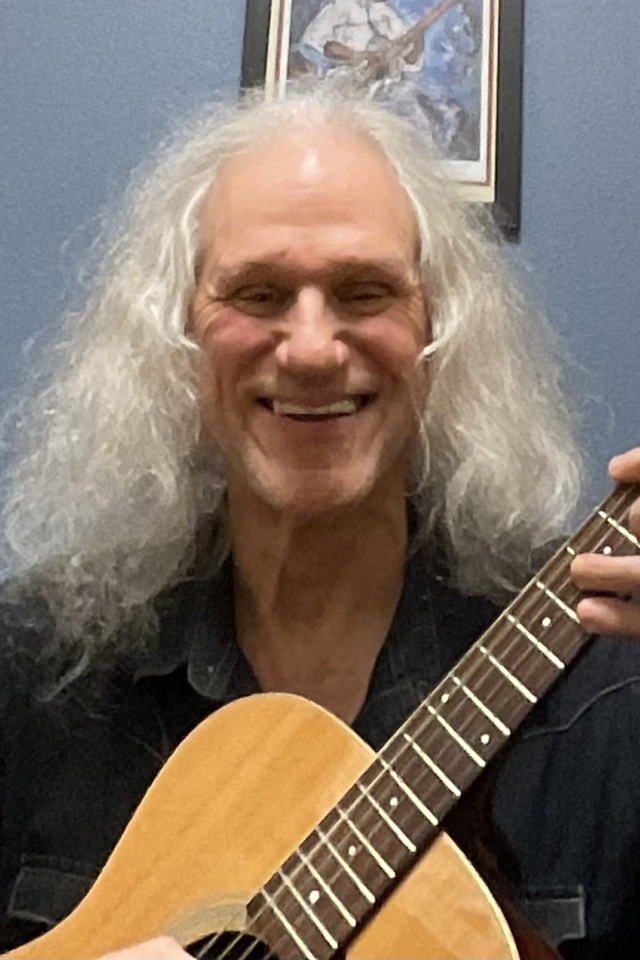 Please note: David currently teaching ONLINE ONLY.
David is a master guitar teacher who has been with JTB for over fifteen years and brings fifty years of teaching experience to the table. Comfortable with students of all ages and levels, David will create a custom lesson plan just for you.

David is a seasoned jazz, bluegrass, blues and rock guitarist. Finger- style jazz (Chet Atkins) is one of his specialties. In addition to guitar, David also excels on the banjo, mandolin and ukulele.

Many of David's students have gone on to study music in college and pursue music careers. It is not uncommon for college grads to resume their lessons with David. He has current students who have been studying with him for 15+ years!

Student Google Review: C Margolis 5 ⭐️⭐️⭐️⭐️⭐️
"David!! You are a fabulous teacher and an even more fabulous person! Your unwavering support and compassion is unmatched. I thank you for challenging me, believing in me, and inspiring me to be a better guitar player and better person in the world. You are so appreciated and loved by all your students, including me!"
Month to month
Tuesday Online Only Lessons