30 Min. Drums
Piano, Voice, Guitar, Drums, Bass
Ages 8 - 12

Join The Band
Ryan G

INTRO TO MUSIC (Ages 8-12yrs)
Intro to Music Camp is a fun week-long camp that introduces a variety of instruments to new
music students between 8 and 12 years old. Each day we introduce a new instrument to our
campers and work towards playing a song together by the end of the week. Our friendly studio
environment encourages kids to have fun trying new instruments like guitar, piano, drums,
singing and bass guitar. We also introduce ear training exercises to help understand what they
are hearing when they listen to music.
Previous musical experience is not a requirement for the Intro to Music Camp
Please pack a sack lunch (and a snack or two!).
We have water and juice boxes available at the studio.
Pizza brought in on Fridays, followed by an in-studio performance for family and friends.
Monday, Jun. 13 - Friday, Jun. 17
9:00am - 2:00pm Daily
$529.00 Register
Anthony O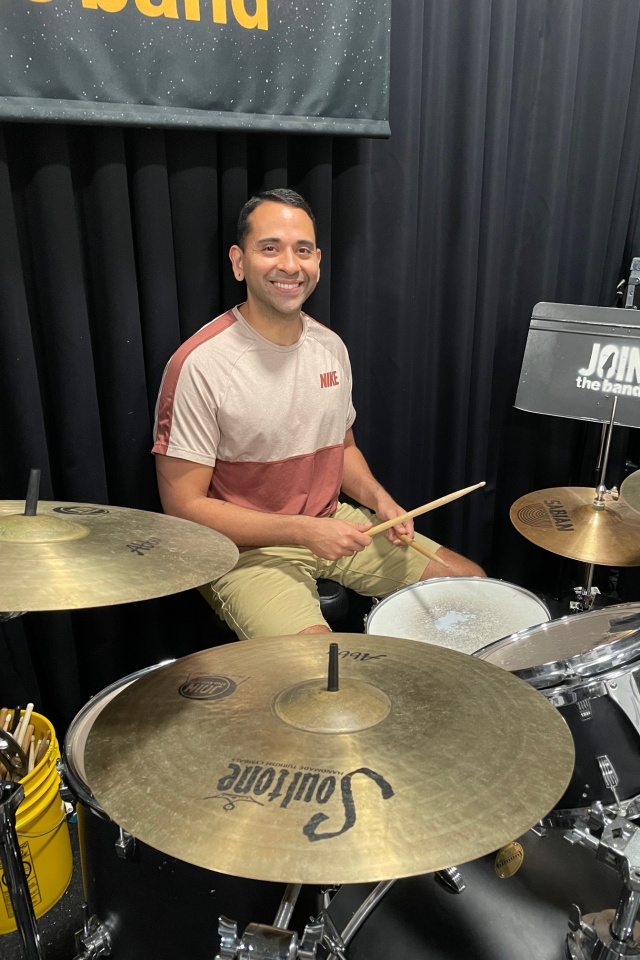 Anthony knows firsthand the joy that music brings to his students. By indentifying their distinct way of learning, he will create a personalized lesson plan tailored for each individual student. With a lighthearted demeanor Anthony's teaching style has been a fulfilling experience for his students.
Anthony is a well-rounded drummer with over eighteen years behind the drum kit. He is well-versed in many styles of music including rock, jazz, blues, funk, reggae, and everything in-between.
Originally from Palm Beach, Florida, Anthony began his drumming experience as a young teen in rock and funk bands. Seeking to broaden his skills, Anthony moved to California to study in the PIT program at Musicians Insititute in Hollywood. For over a decade, he has worked as a teacher, live performer, and session musician in Los Angeles.
Month to month
Thursday at Join The Band
Month to month
Sunday at Join The Band
Dave A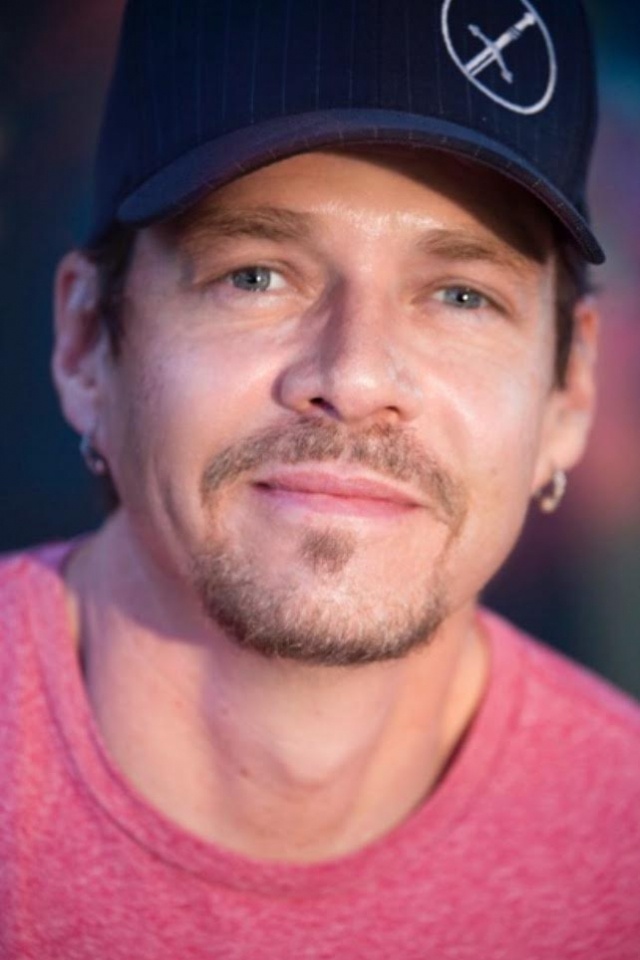 Dave Allen graduated from the Western Australian Conservatorium of Music with a Degree in Music and Performing Arts. After moving to Los Angeles from Australia, Dave completed the Post Graduate Encore Program at the Musician's Institute in Hollywood, CA.
Dave has been teaching professionally for over 30 years and loves teaching the drums as much as he loves to play the drums.
Dave specializes in teaching all styles of drumming, and loves to teach students of all ages, from the "wee little ones" to our seniors. All levels too, the beginners, the kids auditioning for Jazz programs for school and college, and the students who just want to take their drumming to the next level. Whatever age or level, Dave and his students just have fun playing music! Helping students to create this drumming happy place is what inspires him to teach the most.
Dave has recorded drums on movie and TV soundtracks including: 'American Pie', 'Crash', 'Power Rangers' and 'Me, Myself and Irene', 'Buffy The Vampire Slayer', 'Smallville', and the Curious George Cartoons on PBS and HULU.
In addition, Dave has recorded music for all 6 Disneyland Theme Parks around the world. Dave has also played drums with numerous singers including, Leonard Cohen, Michelle Branch, Avril Lavigne, Brett Michaels and Paul Reiser.

Parent Google Review: V Manthena 5 ⭐️⭐️⭐️⭐️⭐️
"We couldn't have asked for a better drum teacher! Dave is such a kind and caring teacher who makes learning how to play the drums a truly fun and exciting experience. Furthermore, he is so skilled at working with kids of all needs, in an inclusive and welcoming way! We highly recommend him to anyone!
No timeslots available at the moment.
Jake D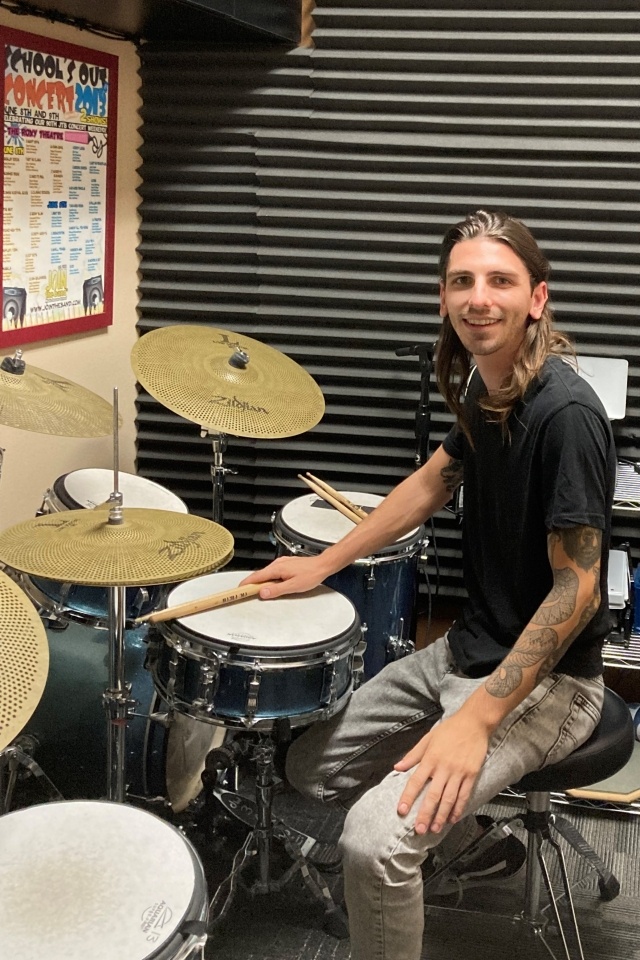 Jake graduated from Berklee College of Music in 2015. Since that time Jake has had taught a wide variety of drum set styles to students of all ages. Rock, pop, blues, jazz, funk, and more!
Teaching the role of a drummer plays inside of a band is his primary goal as a teacher. Learning how the student learns and what makes them excited to play the instrument is crucial to their development.
As well as teaching, Jake has toured and recorded internationally with multiple artists and loves to bring that real gigging experience and information into the classroom
Parent Google Review: A Lee 5 ⭐️⭐️⭐️⭐️⭐️
"Our 5yo has Jake as a drum teacher and Natalie as his piano teacher at JTB and they're both the absolute best!
Jake is so patient, and fun, and embrace's our little guy's quirkiness. He's so thoughtful and engaged no matter the energy our son shows up with to his lesson. Our son loves showing his friends all he's learning on the drums and continues to love to learn the drums largely because Jake is such a great teacher."
Month to month
Tuesday at Join The Band
Month to month
Wednesday at Join The Band
Month to month
Sunday at Join The Band
Mike D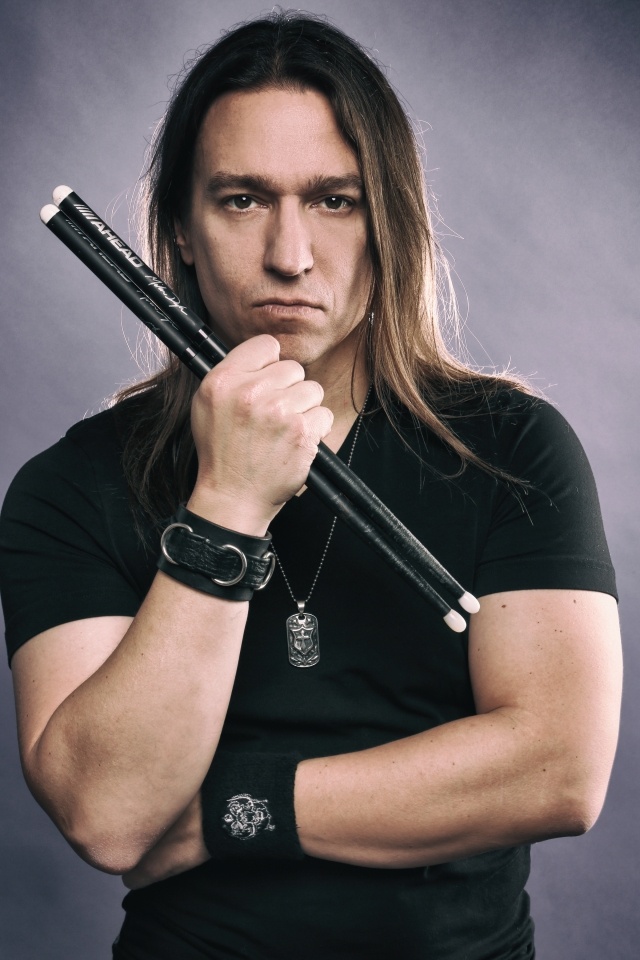 Mike is a Michigan-born drummer who has been teaching professionally since 1999 and with Join The Band for over five years.
In addition to Join The Band, he is also an instructor at Musicians Institute in Hollywood. Rather than using the same lesson materials for every student, Mike will design a program based on your experience, musical interests, and performance goals.
Mike has performed in over 30 countries around the globe with the likes of John Mellencamp, Dee Snider (Twisted Sister), W.A.S.P., Dizzy Reed (Guns N' Roses), Eric Sardinas, and Annabella Lwin (Bow Wow Wow). He attended the Indiana University School of Music where he studied with powerhouse drummer Kenny Aronoff.
Rock, Metal, Jazz, Marching, Orchestral-- Mike has done it all, and he can help you do the same!

Parent Google Review: Audrey G. ⭐️⭐️⭐️⭐️⭐️
"Mike is one of the best and most fun drum instructors out there. He is always super patient and is always super understanding and is just so much fun to be around and play and learn music with. One of the highlights and best parts about my week is going to the studio every Saturday at 2 to have fun and learn with Mike. In my eyes he deserves like 50 stars."
No timeslots available at the moment.
Quentin J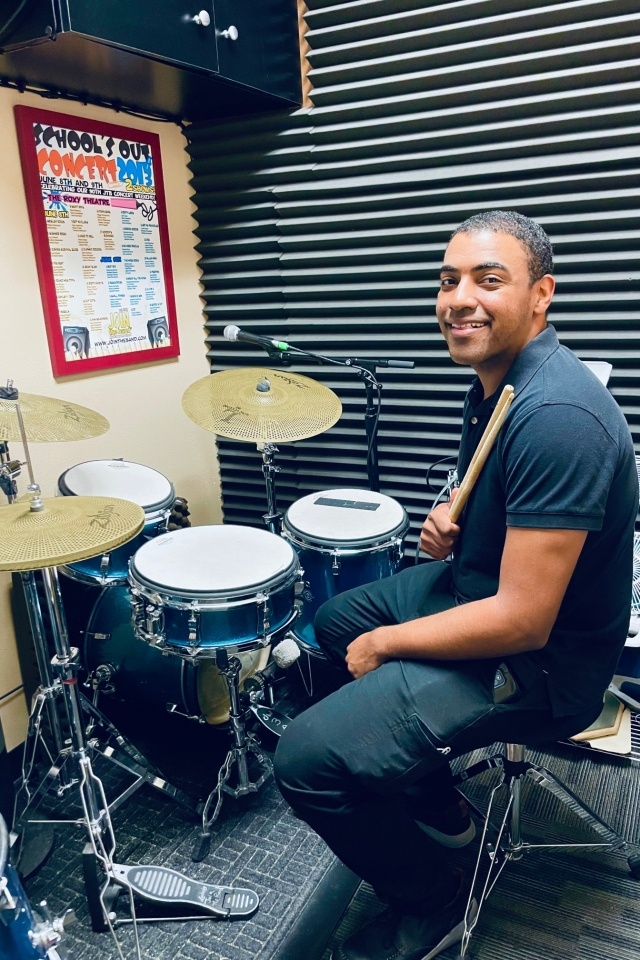 Quentin received his Master of Music degree in Drums/Percussion Performance from Shepherd University in 2016 and has been steadily teaching students ever since.
His teaching philosophy emphasizes both knowledge of rudiments and the ability to read music, as well as playing by ear and improvisation. Quentin's drum students gain a foundation in drum technique and are allowed to grow in their love for music at their own pace.
In addition to teaching, Quentin also performs regularly in the Los Angeles area.
Parent Google Review: D Dortch 5 ⭐️⭐️⭐️⭐️⭐️
"My daughter has been taking beginner drum lessons from Quentin @ JTB. Q is an intuitive teacher with a calming effect on nervous kids. After a few lessons, not only is her confidence on 10 but her love and appreciation for music has grown. Especially because she was able to pick a song and artist to learn that she already listens to at home."
Month to month
Monday at Join The Band
Taylor M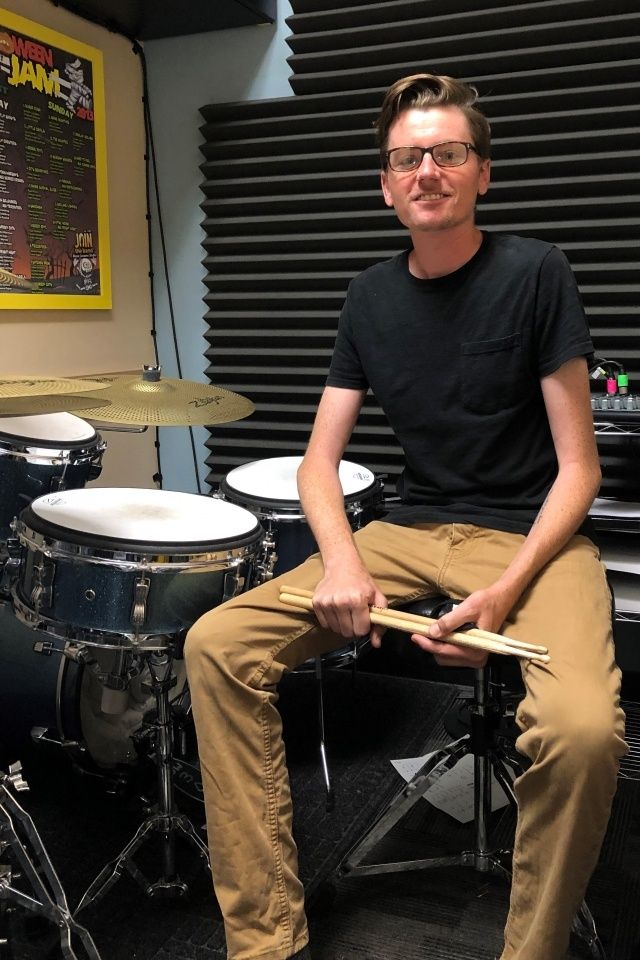 Taylor is a drummer, composer and producer from Los Angeles and holds a Bachelors Degree in Contemporary Writing and Production from Berklee College of Music. He began playing drums at the age of 7 and was exposed to a wide variety of music from Jimi Hendrix to Miles Davis.
He has been teaching drum lessons for over ten years and has been with Join The Band for over eight years now.
Taylor has taught students ranging in age from five to seventy years old. His goal is to personalize lesson plans based on the student's musical interest, while still covering the fundamentals of drumming.

Parent Google Review: K Clayton 5⭐️⭐️⭐️⭐️⭐️
"Our son enjoys studying with Taylor a lot. He started with Taylor when he was 9. We took a break and when he we picked up again our son said he only wanted to continue studying if he could work with Taylor. We love that Taylor focuses on basic techniques while giving our son the option to learn tunes he is interested in learning. He communicates well and is good about following up with assignments."
No timeslots available at the moment.
Zak R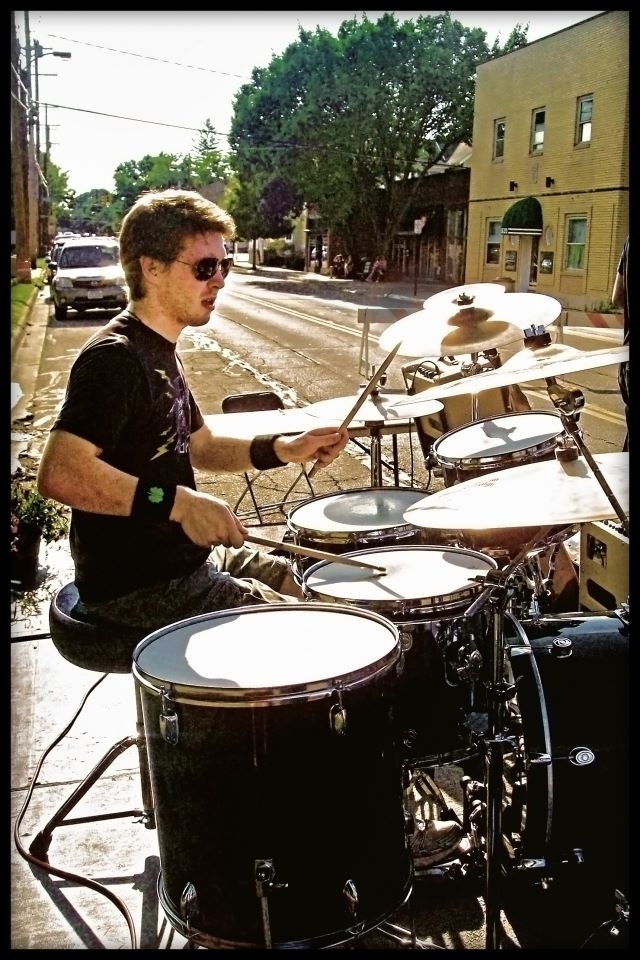 Zak is a graduate of Bowling Green State University with a degree in Jazz Performance.
With his students, he inspires passion and excitement by teaching them how to play their favorite songs while also focusing on important fundamentals like grip, approach, rudiments, and musicality.
Teaching is enjoyable for him because he loves seeing students overcome challenges and the excitement they get from becoming a drummer!
Parent Google Review: J Marcus 5 ⭐️⭐️⭐️⭐️⭐️
"Zak is an absolutely amazing drum teacher. He is patient, inspiring, and my son just adores him. He is a class act, and while we live around the corner from the school, I would travel miles for my son to have classes with Zak! We are so fortunate and lucky to have found him."
Month to month
Thursday at Join The Band
Month to month
Friday at Join The Band