Guitar Private Lessons
Pete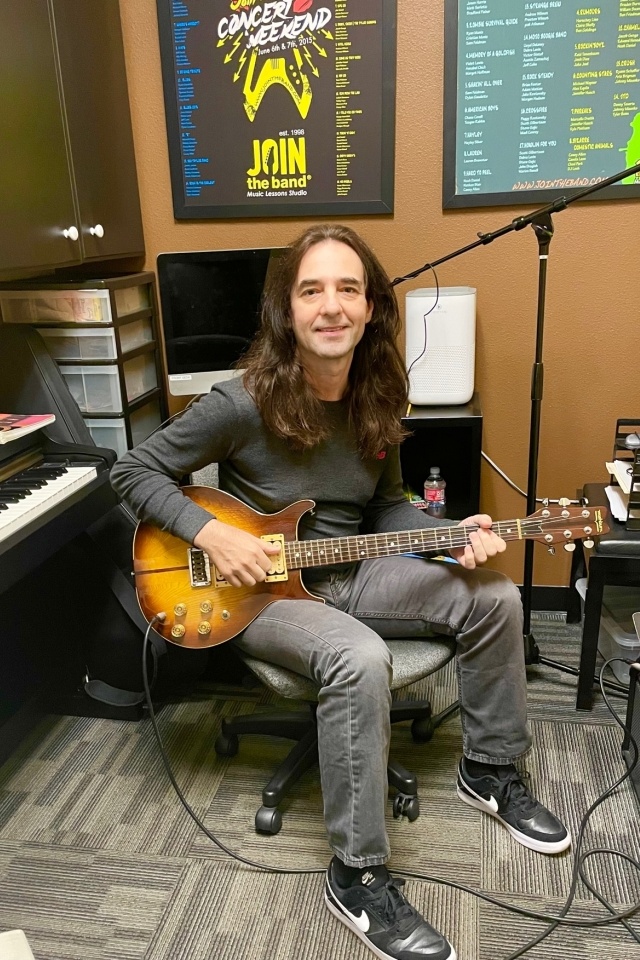 Pete acquired his Bachelor of Science Music Major at Mercy College and The Westchester Conservatory of Music
With over 20 years of teaching, and real-world professional guitar playing experience, Pete can tailor a lesson
plan just for you.
Pete excels with beginners to bring them up to their first performance, helping a teenager play
in their first band, preparing a student for music college, or simply playing at a level that they're
happy with.
Pete is committed to helping guitar students learn and enjoy the process of learning, and finds it extremely gratifying to guide them through the process and help them reach their goals.
Parent Google Review: R Leflore 5 ⭐️⭐️⭐️⭐️⭐️"...My daughter looks forward to her lesson every week and is advancing all the time! Pete is amazing, my 14 year old loves her guitar lessons. Thank you Pete and Join the Band for all the music!
Month to month
Monday at Join The Band
Month to month
Saturday at Join The Band
Michael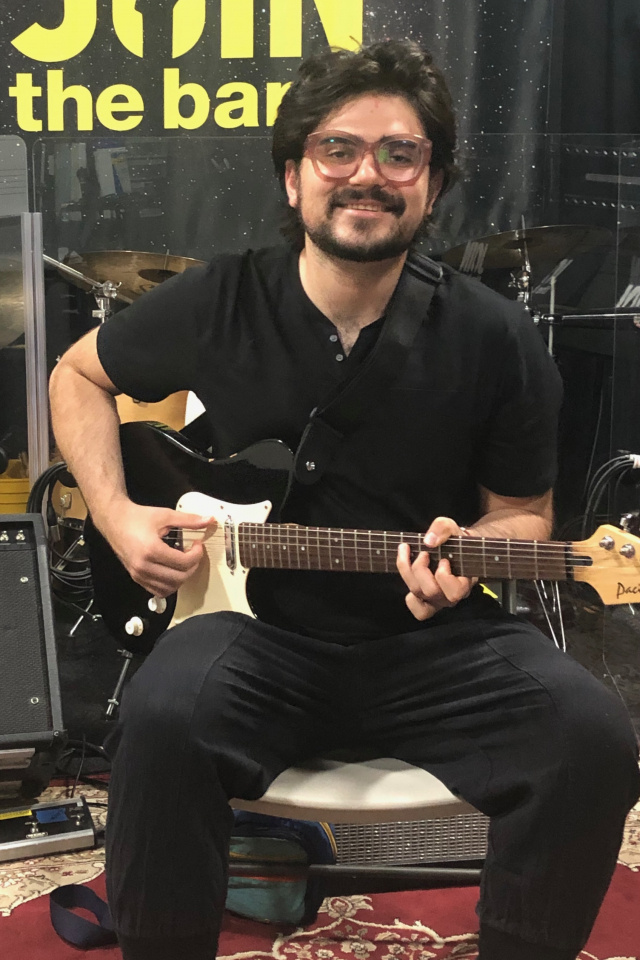 Michael is a guitarist and gifted singer/songwriter who believes that the power of expression through music is something everyone should experience. He makes learning music fun by focusing on the goals and needs of each individual student.
Michael attended the California Institute of the Arts (CalArts) and graduated from Idywild Arts Academy.
As a songwriter, Michael has developed a deep appreciation and passion for individuality and creativity in music.
No genre or style of music is off the table for Michael. His playing is strongly influenced by Rock'n'Roll, R&B, and jazz, but he is also comfortable with country and folk styles, and even classical Indian styles.
Month to month
Monday at Join The Band
Month to month
Saturday at Join The Band
Ryan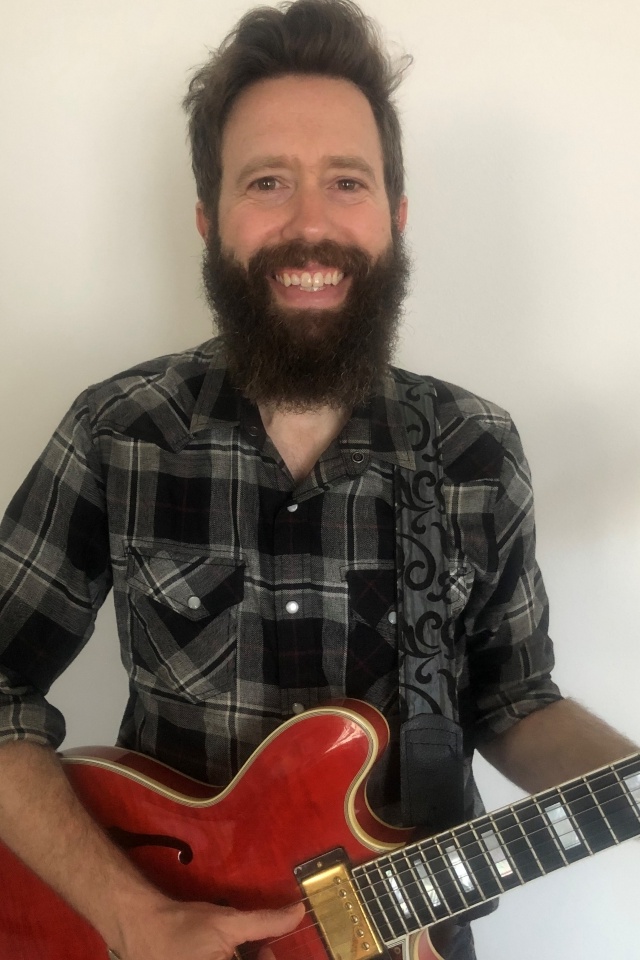 If you identify with our Four Fathers (John, Paul, George, and Ringo), look no further. Young ZZ Top lookalike and British rock-n-roll enthusiast, Ryan, has been teaching at Join the Band for almost 20 years. He is a guitar teacher, band leader, and songwriting coach specializing in alternative, pop, and classic rock.
From winning the John Lennon Songwriting Contest at age 14, to touring the globe and recording with his own band, he is here to share his book of knowledge.
In addition to his life experiences on the road and studio, Ryan also brings a schooled background with a degree in music from Cal State Northridge.
With a combination of structure and self-discovery, Ryan will help guide you to find your own unique style.

Student Google Review: M Meme 5 ⭐️⭐️⭐️⭐️⭐️
"Thank you Ryan for being such a great teacher! Band is always so much fun and i don't feel pressured or worried about not being perfect in band class. You never get mad when i screw up and are always super nice about correcting me. Thank you for all the support and confidence boosters it really does help my self esteem and helps me improve as a musician."
No timeslots available at the moment.
Taylor W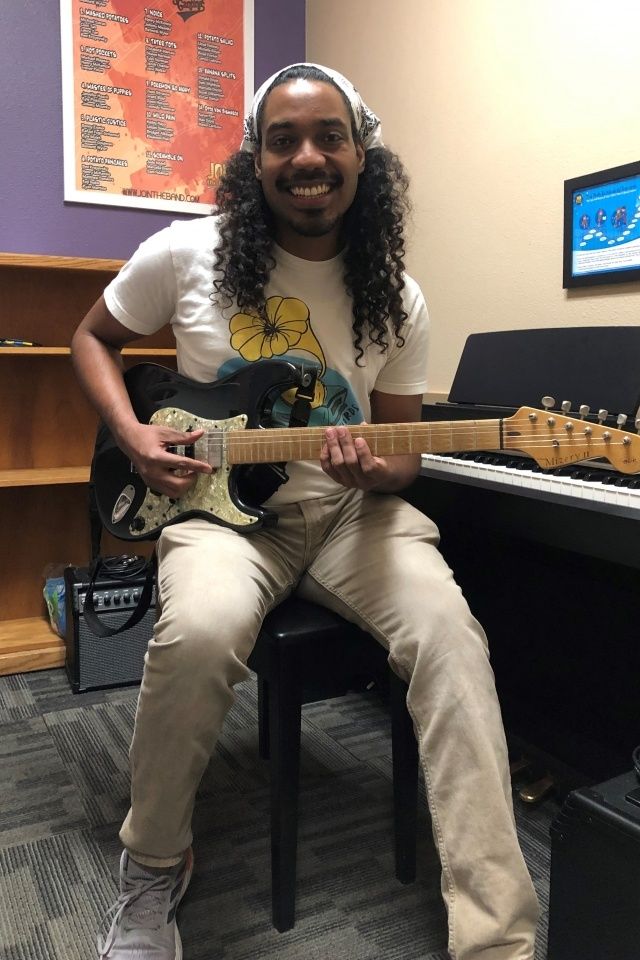 Taylor is a diverse instructor, exploring the language of music as a producer, composer and educator. Being a proud graduate from the USC Thornton School of Music, Taylor has studied multiple instruments, arrangement and composition, and has had over 4 years of experience as an educator.
His eclectic insight has resulted in various approaches unique to his students and their creative ideas. Drawing from all of these experiences Taylor brings a unique approach to teaching to share his love for music.

Parent Google Reviews:
S Troyan 5 ⭐️⭐️⭐️⭐️⭐️
Taylor has really helped our son find his voice. He loves his one on one sessions with him. It really helps him fine tune the songs he performs with his band."
R Leflore 5 ⭐️⭐️⭐️⭐️⭐️
" Taylor is so patient and inspirational with my daughter, he is such an amazing teacher! My daughter looks forward to her lesson every week and is advancing all the time! Thank you Taylor and Join the Band for all the music!
Month to month
Monday at Join The Band
David S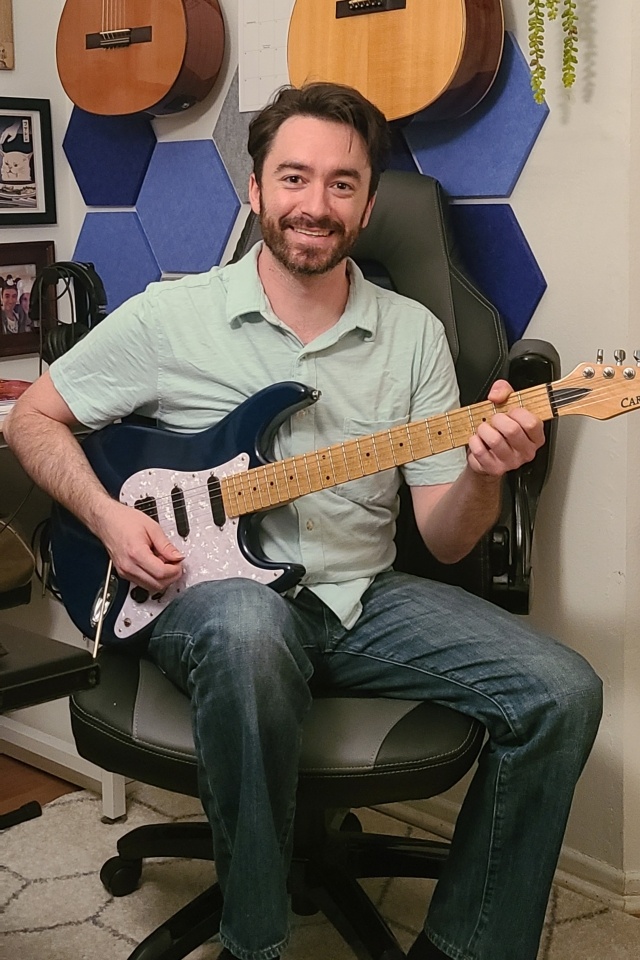 David Shorr is an enthusiastic guitar teacher with over 10 years of experience. David received his Bachelor of Music from the Jazz Studies program at Cal State University Northridge where he studied guitar with Larry Koonse (Seth McFarlane, Karrin Allyson, Tierney Sutton, Billy Childs, etc).

David's teaching style can be described as structured, rewarding, and most of all, fun! In addition to teaching students how to play their favorite songs, David also makes use of various method books to give all his students a strong foundation in reading music notation and guitar fundamentals.

Whether your interest is electric rock guitar shredding, folk acoustic strumming, jazz and improvisation, or even classical guitar technique, and everything in between, David can help you achieve. David's absolute favorite thing about teaching is seeing the pride in a student's face when they nail something they've been working really hard on!

As a professional musician, David's experience has taken him from stage to screen performing with acts such as Postmodern Jukebox, on TV shows like The Comedians (Billy Crystal and Josh Gadd – live to tape performance), Jane the Virgin (on camera performance), Deadwood (2019 movie – on camera performance). David has also recorded guitar on various short films and games with industry greats like video game composer Austin Wintory.
Parent Google Review: P Duca 5 ⭐️⭐️⭐️⭐️⭐️
"We LOVE Join The Band!!
Our son has done the band program, which is amazing and also takes guitar lessons from David S. David is the VERY best! David's love of teaching shines bright and it's clear that he has a genuine interest in our sons development which we appreciate very much. His support, encouragement and enthusiasm means to world to our family. My son loves his lessons with David because he's "fun and teaches me lots of new things."

We feel very lucky to be part of the Join The Band family - We love the entire staff, they are always so helpful, caring and encouraging!
Thank you David and JTB!"
Month to month
Tuesday at Join The Band
Month to month
Wednesday at Join The Band
Month to month
Friday at Join The Band